This segment of trail has the potential to showcase the beauty of northwest Lower Michigan, connecting coastal natural areas including Barnes Park with Torch Lake Township Day Park, the hamlets of Eastport and Torch Lake, and the businesses in this corridor.
---
September 2023 Update
Planning for the section of the Nakwema Trailway between Torch Lake Village and Old Dixie Highway in Torch Lake Township is underway and we want to hear from you. The proposed trail alignments were presented at an Open House at the Torch Lake Township hall on August 23. The presentation and the two alignment options are shown in the exhibits below.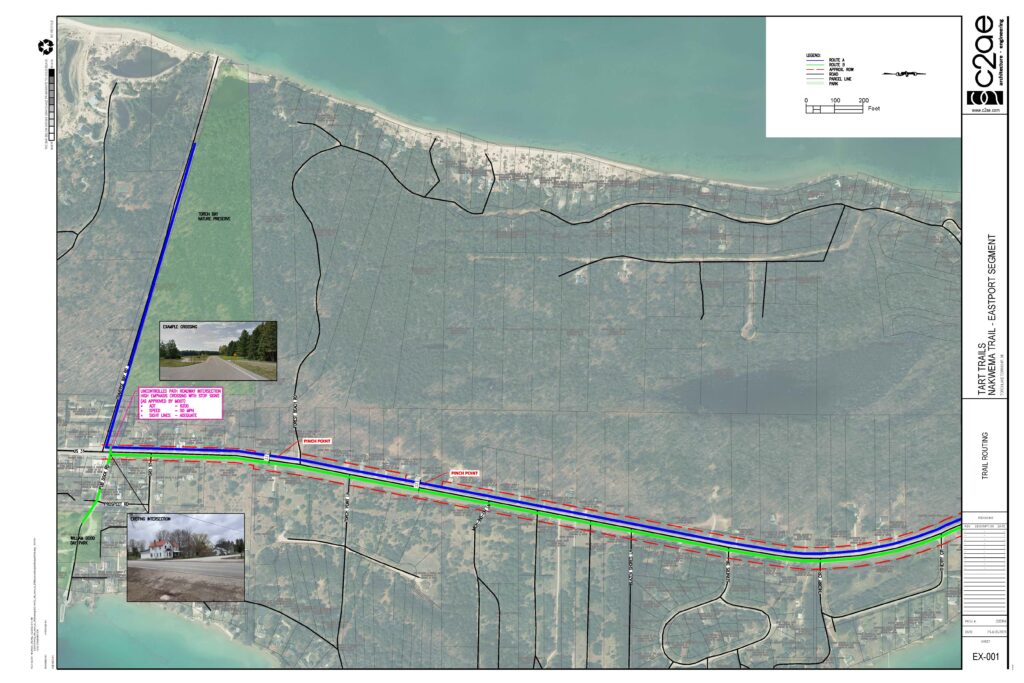 ---
January 2023 Update
To inform schematic design of the Nakwema Trailway in Torch Lake Township, TART Trails and Top of Michigan Trails Council worked with the Torch to Bay Trail Team to collect public input via an online survey. We are thrilled with participation in the survey. Between December 15, 2022 and January 15, 2023, we received nearly 400 entries. Data collected through this survey will inform routing and additional planning and design considerations for this segment of the Nakwema Trailway. Equipped with this information, our engineering team at C2AE will begin schematic design on this segment this winter.
Online Survey Report (January 2023)
---
Status
Schematic Design: Underway
At Torch Lake Cafe, we know firsthand how beautiful it is in this part of Michigan. We feel lucky to be able to offer a welcoming place for Nawkema Trailway riders to stop, relax, and grab a delicious meal on our porch or in our restaurant. Happy Trails!
Jim Hettinger
Owner, Torch Lake Cafe