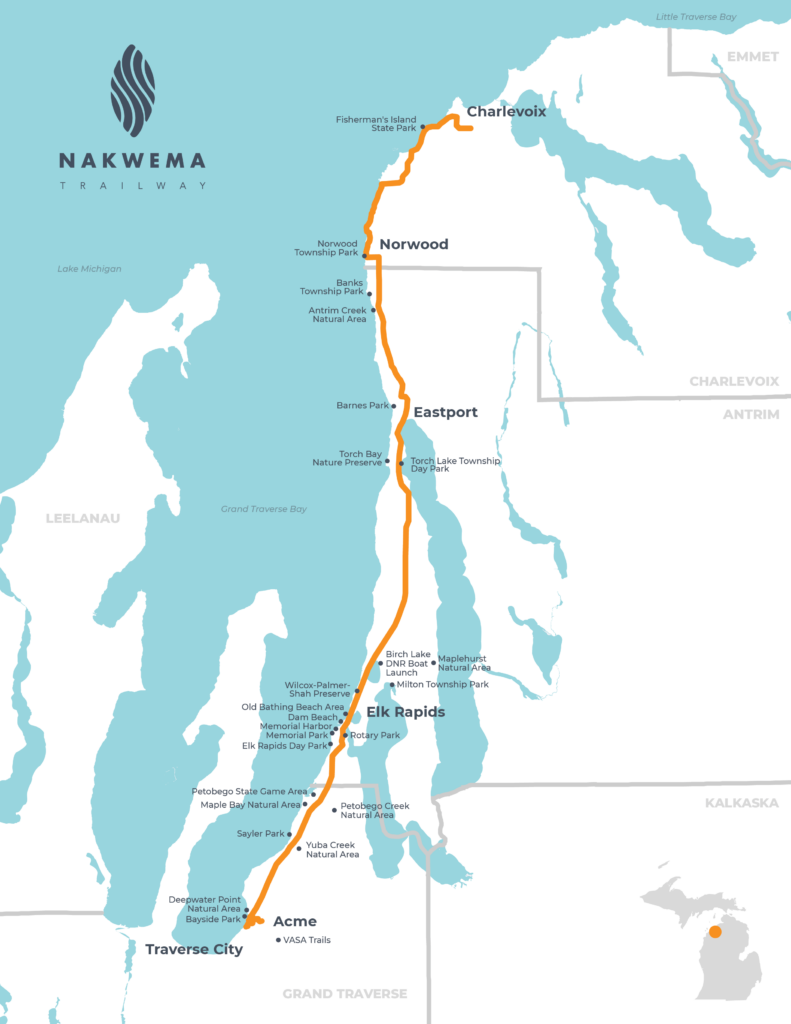 The Nakwema Trailway will traverse through Traverse City, Acme, Elk Rapids, Eastport, Norwood, and Charlevoix. TART Trails and Top of Michigan Trails Council, together with Networks Northwest and in cooperation with local and state governments, are collaborating to close the 45+ mile gap between the Little Traverse Wheelway in Charlevoix and the TART Trails' networks in Acme. By closing this gap, the landmark trail will create a continuous 415+ mile trail network, including the statewide Iron Belle Trail, helping Michigan lead the nation as "The Trails State."
A year-round destination for outdoor recreation and transportation, the Nakwema Trailway will be accessible by individuals of all ages and abilities for work and play. The trail will connect over 25 protected natural areas, granting unmatched access to the region's iconic shoreline. The Trailway will offer a safe, non-motorized option to move through communities and explore the beauty of northwest Lower Michigan. Community benefits and trail user experience will drive the design of the trail. Trail development will ensure the goals of elevating our region's rich cultural and natural resources, and providing important access in harmony with the natural environment. We invite you to explore the beautiful land, water, woods, and people connected throughout this corridor. Find your way on the Nakwema Trailway.
Click on the trail segments above for information about planning and development efforts up and down the corridor.
To learn more about the life cycle of a trail project, from concept to construction, click here (PDF).
---
"Over the past several decades we have learned that the way we design and build our communities has a profound impact on our physical, mental, and social well-being. Improving access to safe spaces to travel and recreate, such as the Nakwema Trailway, leads to increased opportunities for physical activity and time outdoors. Furthermore, healthy places to live and work are desirable places, and the resultant economic impact can also lead to overall health improvement in our communities. Healthy places promote healthy communities."

Joshua Meyerson, MD, MPH
Medical Director
Health Department of Northwest Michigan
---