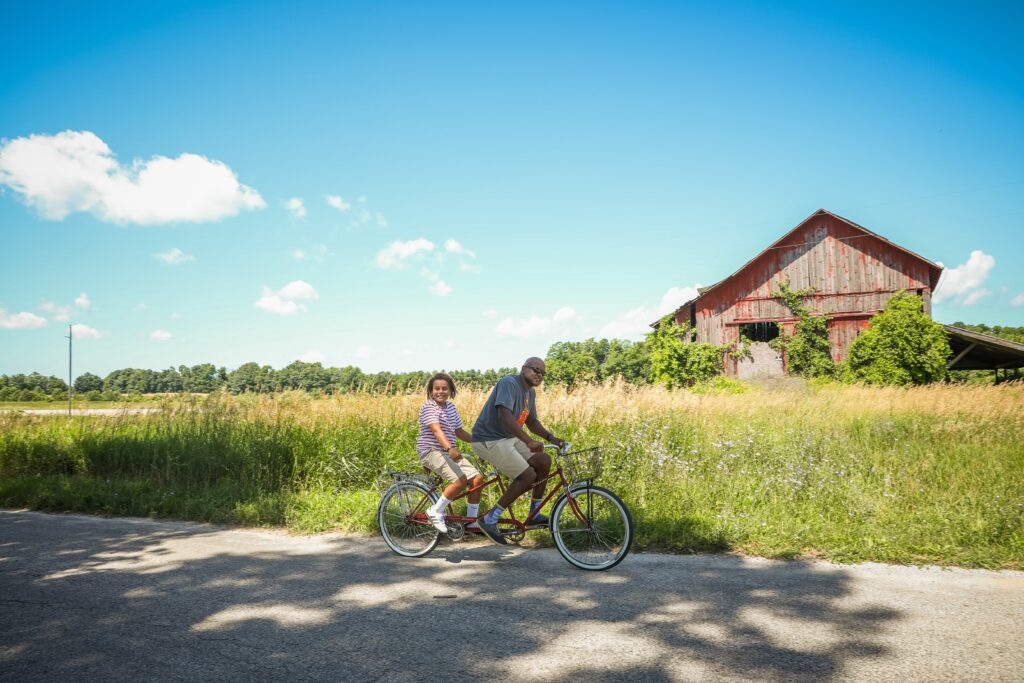 The Nakwema (nah-KWAY-mah) Trailway, linking Charlevoix and Traverse City, will provide a vital, non-motorized connection between pristine freshwater shorelines, rolling dunes, and pastoral farmlands. The Trailway will provide critical foundational infrastructure for happy, healthy, resilient individuals and communities that make up the quintessential towns, villages, and rich cultural heritage that define northwest Lower Michigan.
Nakwema will be one trail that brings together the vision of many communities. The Trailway, when built, will be the keystone connecting towns and villages, and the natural spaces that we cherish. The Trailway will join over 25 natural spaces and parks together, creating a year-round asset for people of all ages and abilities to enjoy, today and tomorrow.
Every mile of the planned Nakwema Trailway will pass near some of the most significant and scenic agricultural lands in Michigan and the country. From orchards to grain fields, vegetables farms to livestock, the trail is a tour of our region's thriving and proud agricultural heritage, and a vivid reminder of its importance today. The Trailway seeks to highlight and preserve the region's agricultural roots, spotlighting the contribution of the farming community and encouraging conservation of our agricultural lands and lifestyle.
The Nakwema Trailway will create a remarkable space that gives everyone the safety and freedom to explore their surroundings. This trailway will encourage us to put down our screens and discover something that will stick with us for the rest of our lives. This trail will also help to ensure future generations see our place as vibrant and unique. Not only will this help to recruit new individuals and families to our area, but also help entice those who may have left to come back to their home and reconnect with the place they love.
---
"Enhancing access to nature is an important shared goal between GTRLC, TART Trails, and Top of Michigan Trails Council. The Nakwema Trailway will connect dozens of natural areas and pass by numerous farmland protection and stewardship projects, showcasing the scenic and natural beauty of Antrim County. These connections between natural areas, fields and forests, our communities, and each other are perhaps more critical than ever, and we at GTRLC are looking forward to sharing in the fantastic experiences you'll find along the Nakwema Trailway."

Glen Chown
Executive Director, Grand Traverse Regional Land Conservancy
---
Goals
1
Develop a non-motorized trailway between the TART Trails and the Top of Michigan Trails Council networks, connecting multiple communities and over twenty-five protected natural areas throughout three counties to create a 415+ mile trail network in northern Lower Michigan.
2
Create opportunities for everyone to participate in active living and healthy lifestyles through year-round outdoor recreation and active transportation, while providing access to the region's iconic shoreline and showcasing the region's phenomenal cultural and natural resources.
3
Provide an extraordinary resource for residents of and visitors to northwest Lower Michigan to spur economic development opportunities, enhance regional identity and strengthen vibrant communities.